Refresh
Whew – there was a lot packed in there. Samsung is a curious fish when it comes to the launches, focusing less on spec and more on lifetstyle impact.
I feel like I got to see all the products, but nothing was really explained in depth. In years gone by, when the events were physical, we'd have someone demonstrating the new features on stage, or showing us how a new function would work.
This time, it was all glitzy, showy videos without really revealing much about the products themselves – how long do the Watch 5 and Watch 5 Pro last? What's the key, real-world differentiator of the Fold 4 screen? 
Is the Z Flip 4 really any better than last year – what does the Aluminum Armor shell really offer?
We're going to dig into all of this and more in the coming days – stay tuned.
I think we're winding down now – that's a lot of new product that's been launched. Thanks for sticking with us – do check out our hands ons of the new products and stay tuned to as we have a lot of extra content to bring you.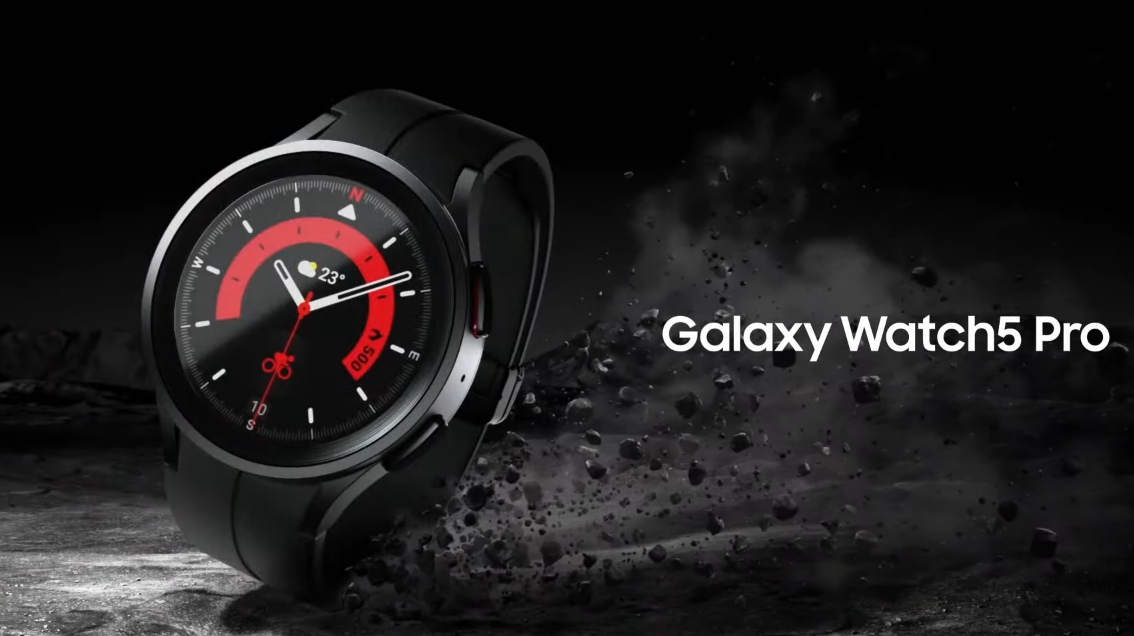 It's coming on August 26, and it'll cost $449 – I'll need to dig into that one a little harder, as that doesn't seem like it's worth another $170 over the Watch 5.
There's a Golf Edition too… what? Just put the golf features on the main Watch 5 Pro!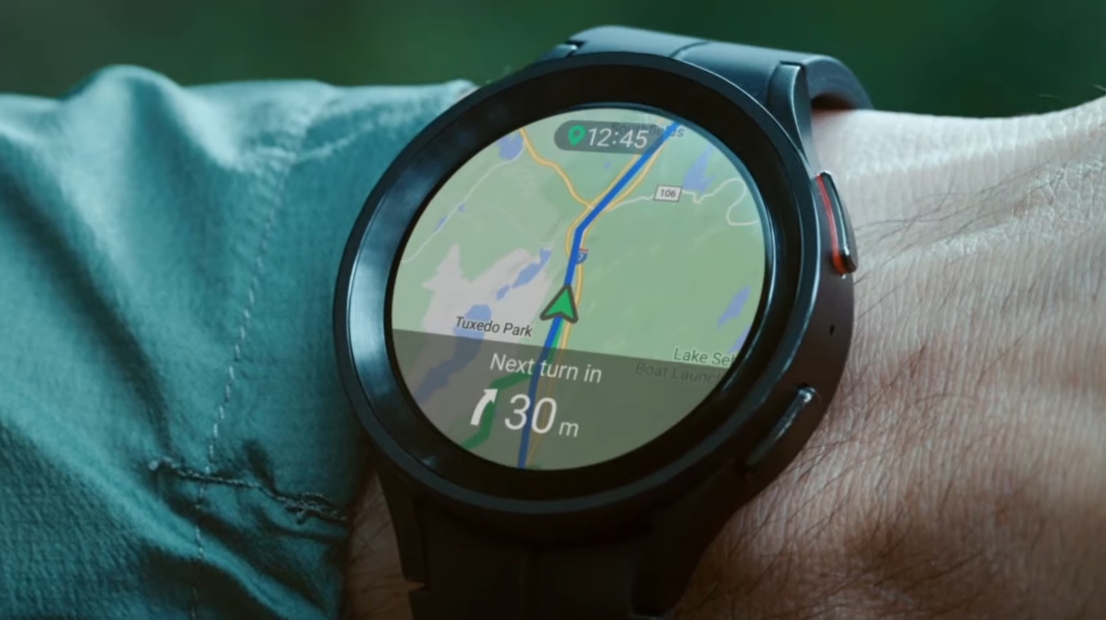 Oh, ha – here it is.
The Galaxy Watch 5 Pro is here – I was worried it was going to be a footnote, but here it is as one of the main events.
The marketing video is all about cycling and running and being active in a rather aggressive, flashing-light kind of way. THERE'S THUNDER IN THE BACKGROUND.
What's going to make it fitness-friendly though?
Well, new watch faces to show you the sunset, and a compass that keeps you hiking in the right direction.
The Watch 5 Pro has a new, turn-by-turn directions through voice and vibrations. Friends and your workout friends can share GPX files too, which is helpful.
The Track back feature means you can head back on the route you took, which has been a feature of Garmin and Polar watches for years.
The screen is also sapphire, coming in two colors, black and gray. And there are sporty and design-led buckles too.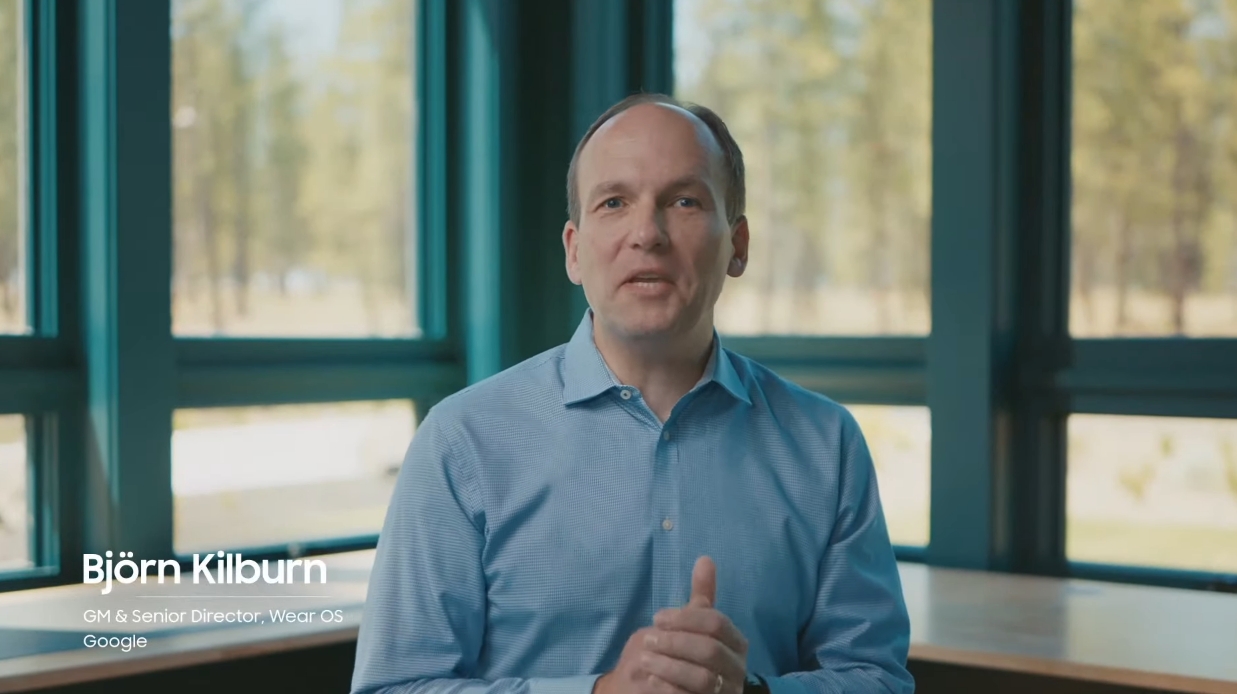 Right, Wear OS now – Google is bringing more apps to the platform like Deezer, a Google Assistant for Galaxy Watches and Spotify too.
You can say 'Hey Google, play my workout playlist on Spotify'… and later in the year, you'll be able to access offline maps without your phone on your watch.
That's not coming now. Why not?
And later this year there's an improved home page and app bundles too… this feels like it's not coming at launch and that sucks a bit.
Still nothing on the Watch 5 Pro.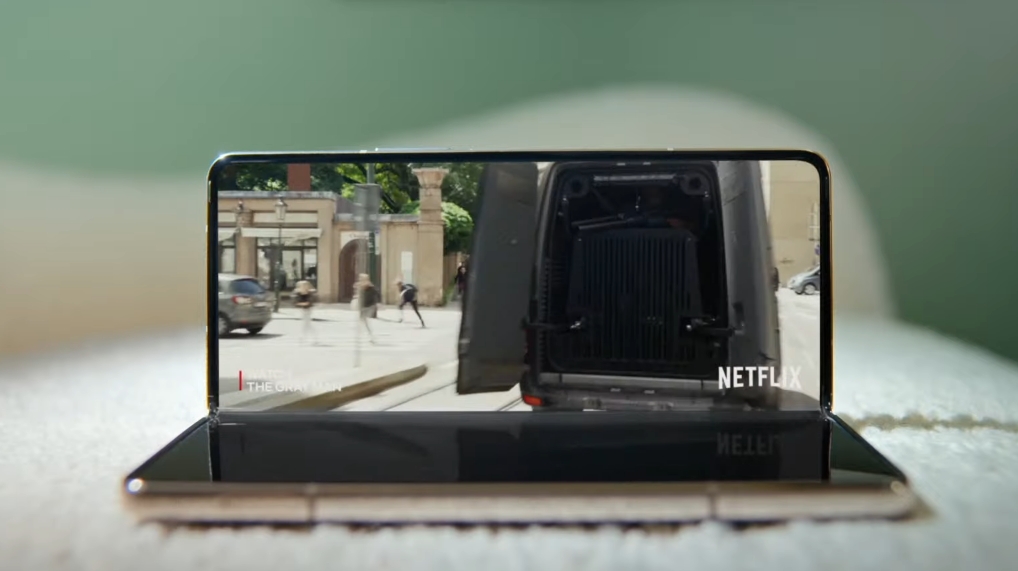 Samsung is whipping through all the features – being able to use tabs more efficiently on a mobile (as in, you can 'compare prices' easily… in the sense you can look at multiple websites) and game while chatting at the same time.
It all looks a bit much, in the way it presented – a gaming console, PC in the pocket and the latest multimedia technology all together.
Oh, we're back to Google – web browsing on Chrome, video chatting on Meet, and expanding the Wear OS platform to Samsung watches.
And today we're hearing about something else from Google…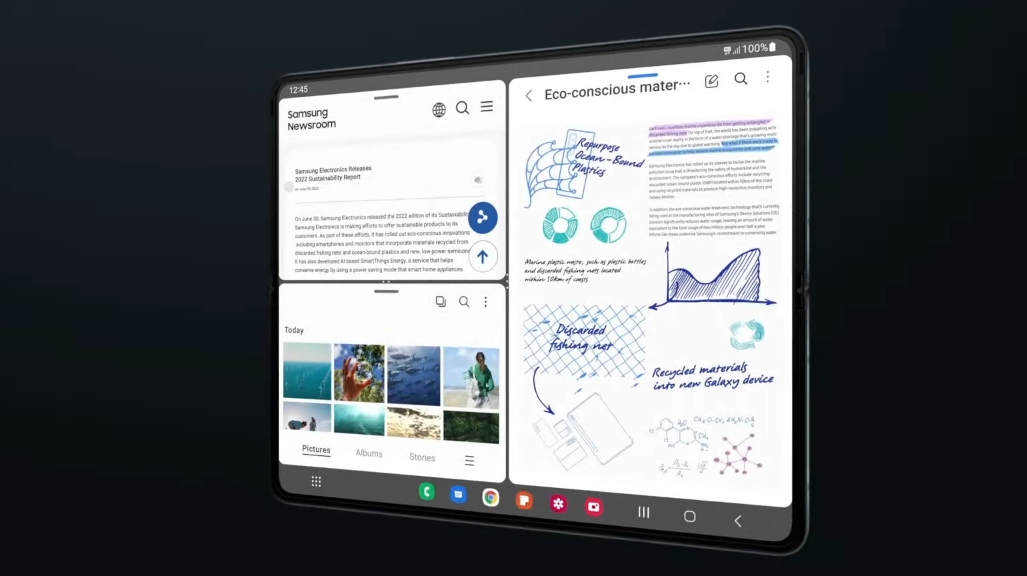 There's a lot being made of the S Pen being available here, and using the phone in split screen really helps improve productivity.
I've heard the word 'productivity' and 'productive' so many times… even more than sponge.
Microsoft Teams is involved as usual, which shows Samsung has a big draw for brands that are usually rivals (in the sense of Google being integrated too).
Now we're off to the camera – improved night cameras and Space Zoom to follow objects better – but these are the features of the S22 Ultra that are being brought across.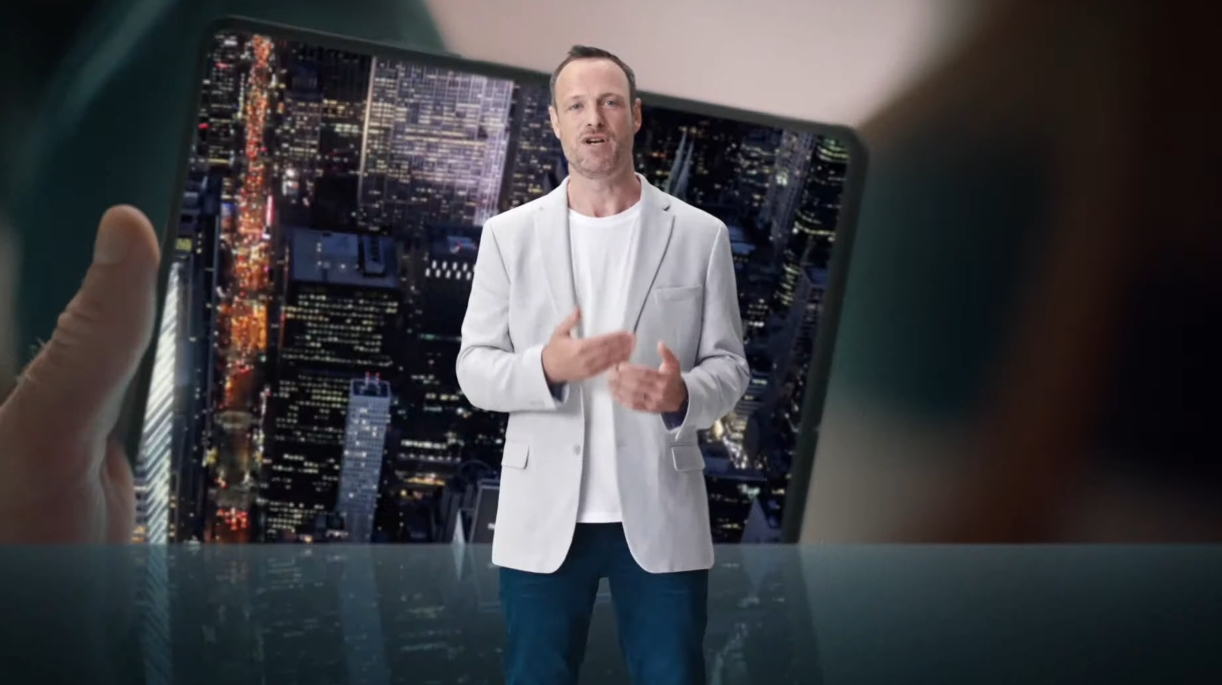 The outer display is also wider and better-looking – the outer display looked poop on the Fold 2, so that's needed.
The display has been improved inside once again, with the under-display cameras being improved too, and it's got Android 12L as well as One UI 4 together… Samsung and Google getting further into bed again.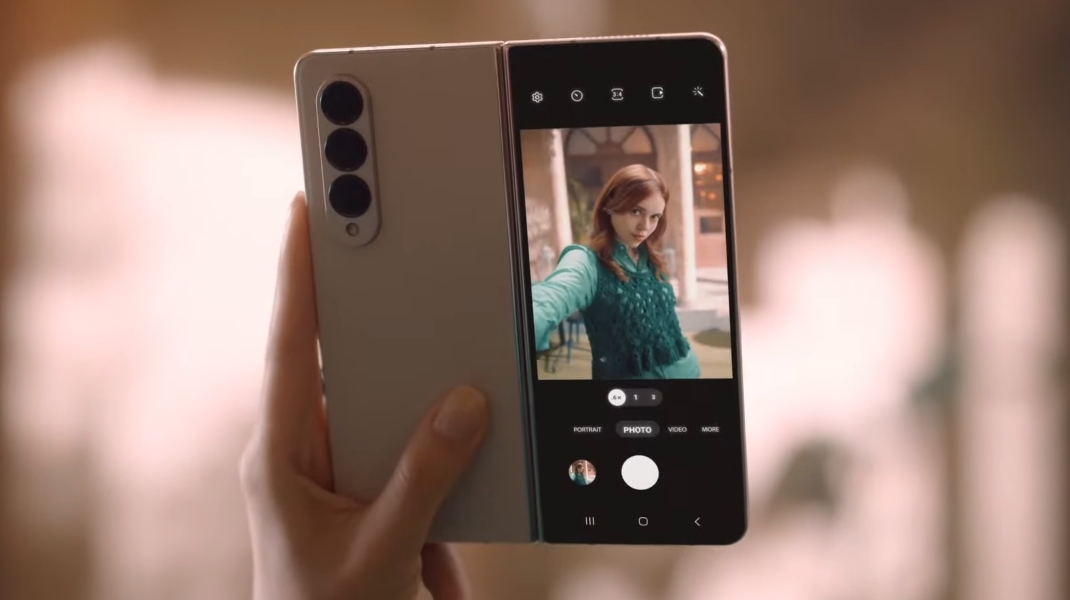 Samsung has made things lighter by changing the display design, by reducing elements from the screen – stiffening the layers and removing the metal layer and adding in sponges to allow for more display vibrations to come through without it breaking anything.
The word 'sponge' has been used far more than I expected in this unveiling.
The marketing is all about the 'strongest and lightest' Z Fold ever… that's clearly something that came out of the marketing focus groups.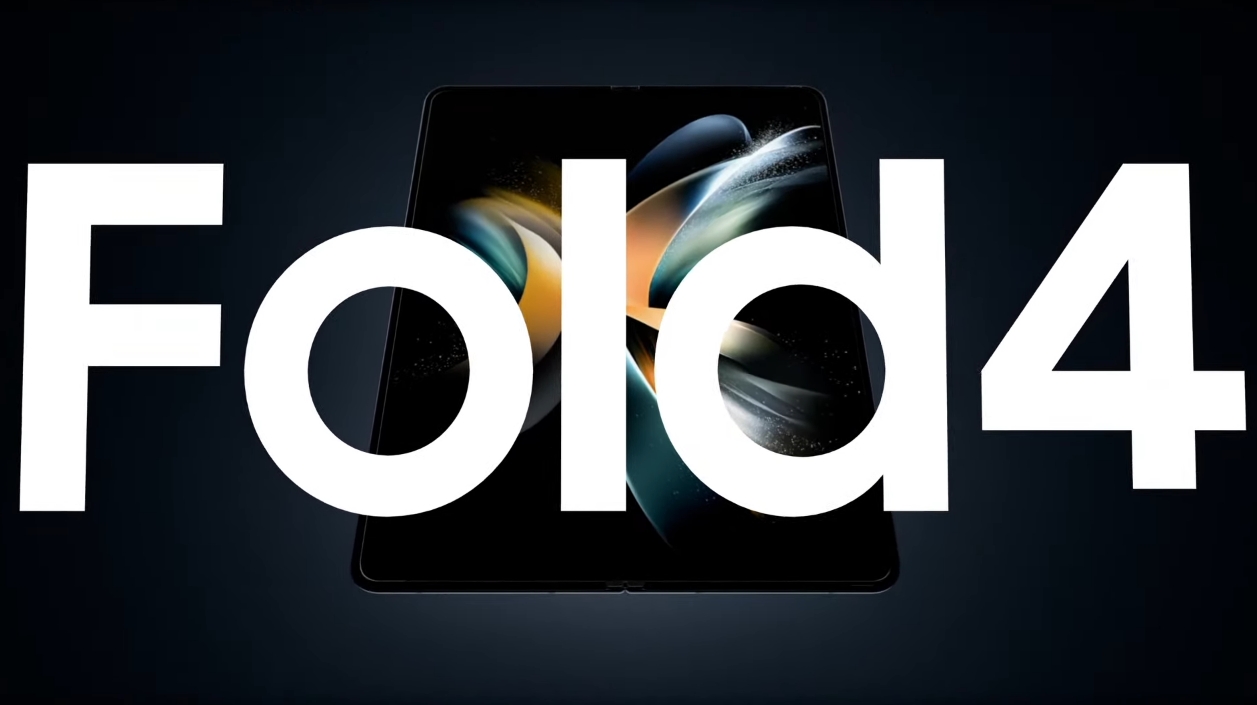 Let's dig in more – starting off more with the new hinge… no longer gear designs, but a newly-designed hinge that allows for slimmer and lighter chassis.
That engineers have improved it, but also removed weight… which is good, because those things have been CHONKY.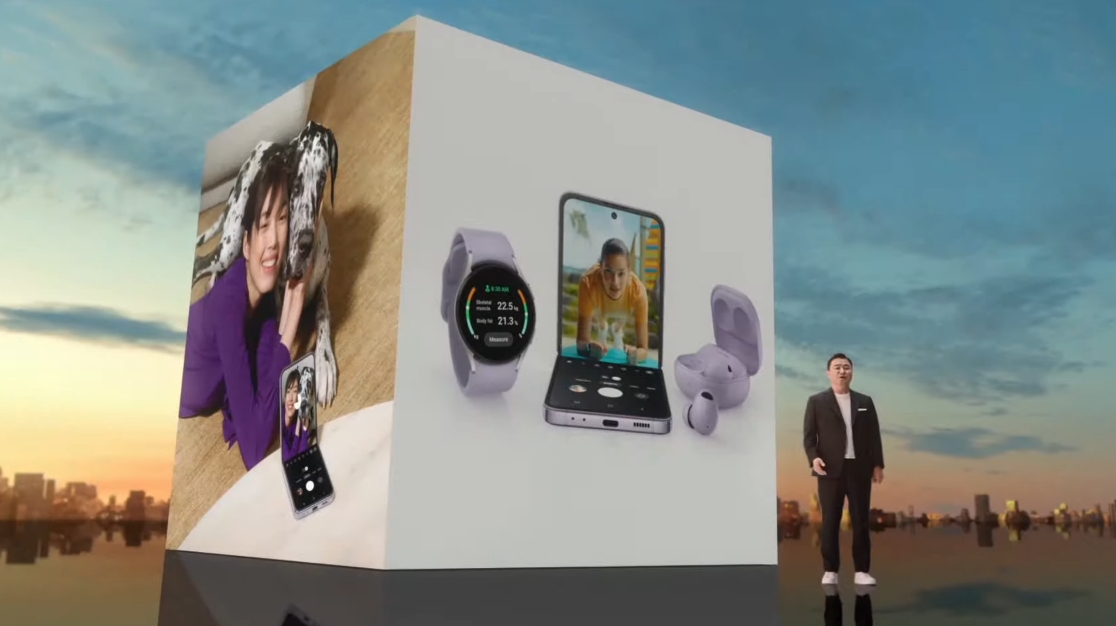 We're back with TM again – who is talking up the next evolution of the foldable – with sustainability in mind.
The most durable and powerful Galaxy Foldables yet – this seems to be more about the Fold 4, finally.
Here it comes – a fancy marketing video with harsh-but-relaxing music in the background. 
'Since the first launch, the Fold series has been the epitome of innovation', croons the voiceover.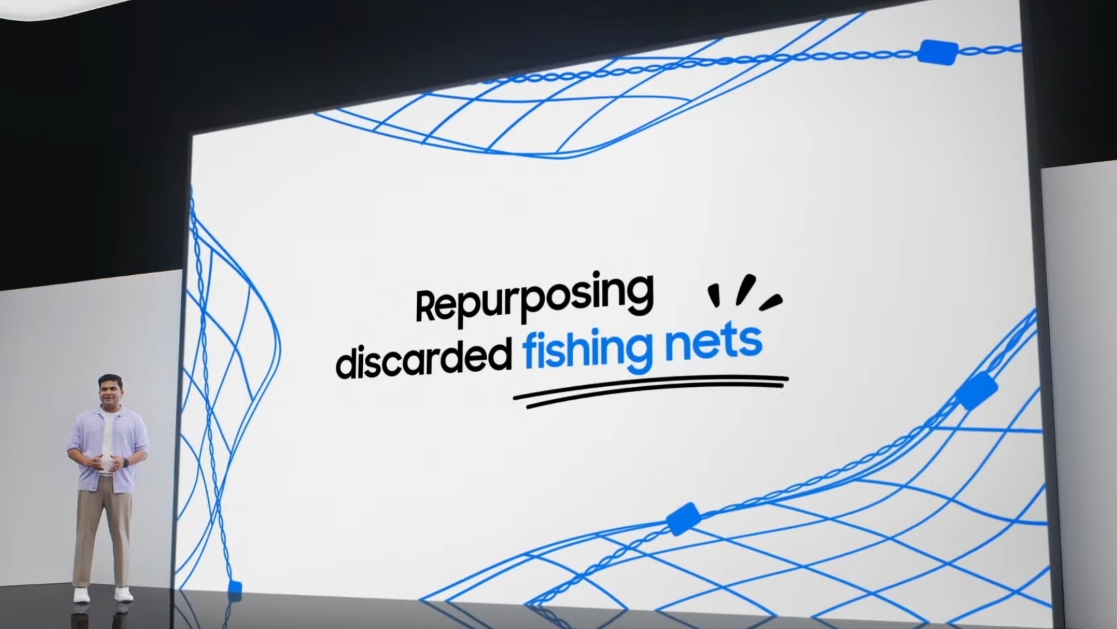 Samsung is using discarded fishing nets in the new Galaxy range, and now we're hearing more about sustainability too.
Nothing on the Watch 5 Pro either, I've just realized.
Sorry – back to the video – 90% of the Galaxy devices have some element of recycled materials… that's pretty vague. The brand will 'continue to invest in eco-conscious materials…' but what does that mean?
There's 100% recycled paper in the packaging in the Galaxy phones, and the size of the boxes has been reduced by 50%. Does that mean even fewer components inside as well?
There are a lot of promises here, but not a huge amount of clear numbers right now, other than being 'on target' and continuing to improve.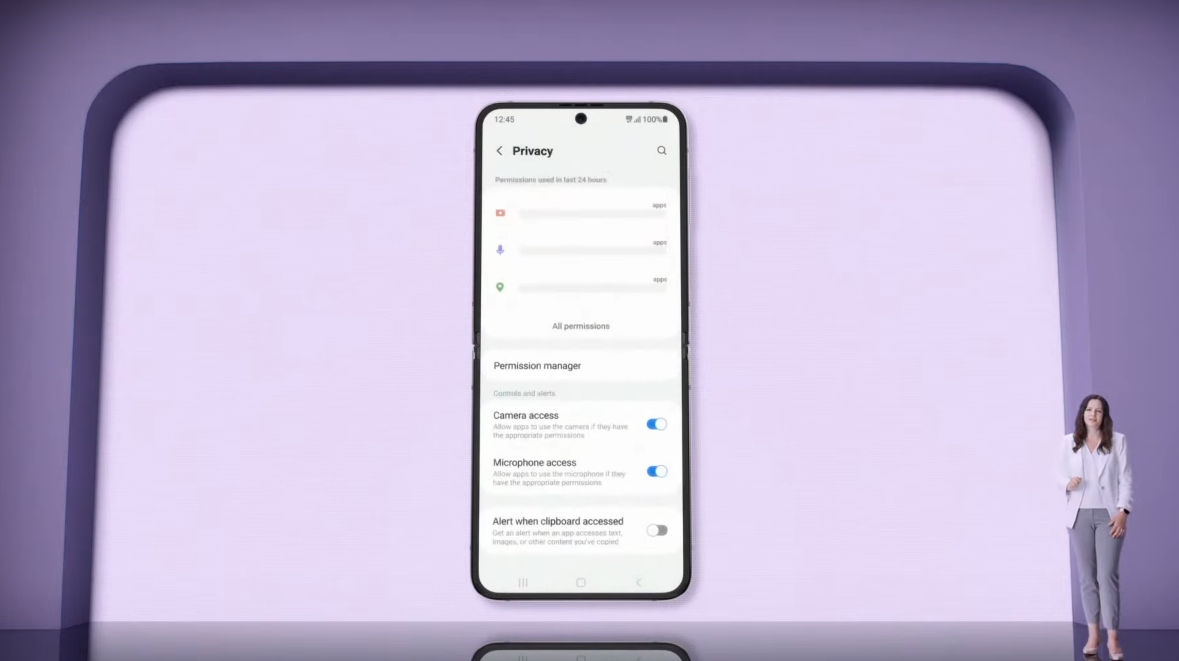 Why are we back to the Z Flip 4? Well, the good news is that it costs $999, and the Buds 2 Pro will be $229, and the Watch 5 will be $279. 
Onto stopping climate change now… this is whistle stop, isn't it?
It's weird that nothing has been mentioned at all about the Galaxy Fold 4 so far… if we hadn't seen it already, I'd be thinking that it's not coming.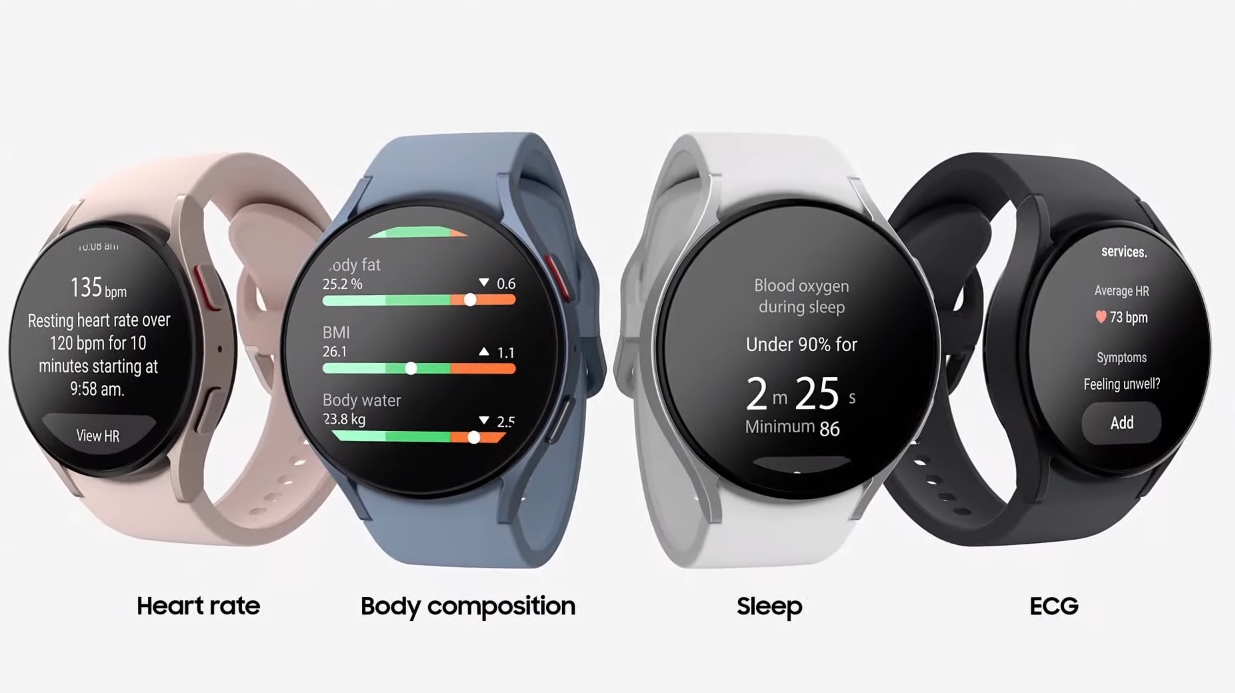 Wow, we're moving on again – the Galaxy Watch 5 is being shown off now. Four different colors, sapphire screens to keep things clearer and less scratch-y.
Sleep tracking has been improved with blood oxygen and heart rate throughout, brought together in Samsung Health too.
There's a larger heart rate sensor underneath and the same 'Bio-active sensor' that can track heart rate, body composition and sleep tracking all together, in one place. Again, it's not ground-breaking, but there's also a temperature sensor in there which is new.
The new infrared temperature sensor will enhance what the Watch can do, and Samsung will work with developers to allow user to benefit in the near future… so this isn't ready as a new feature.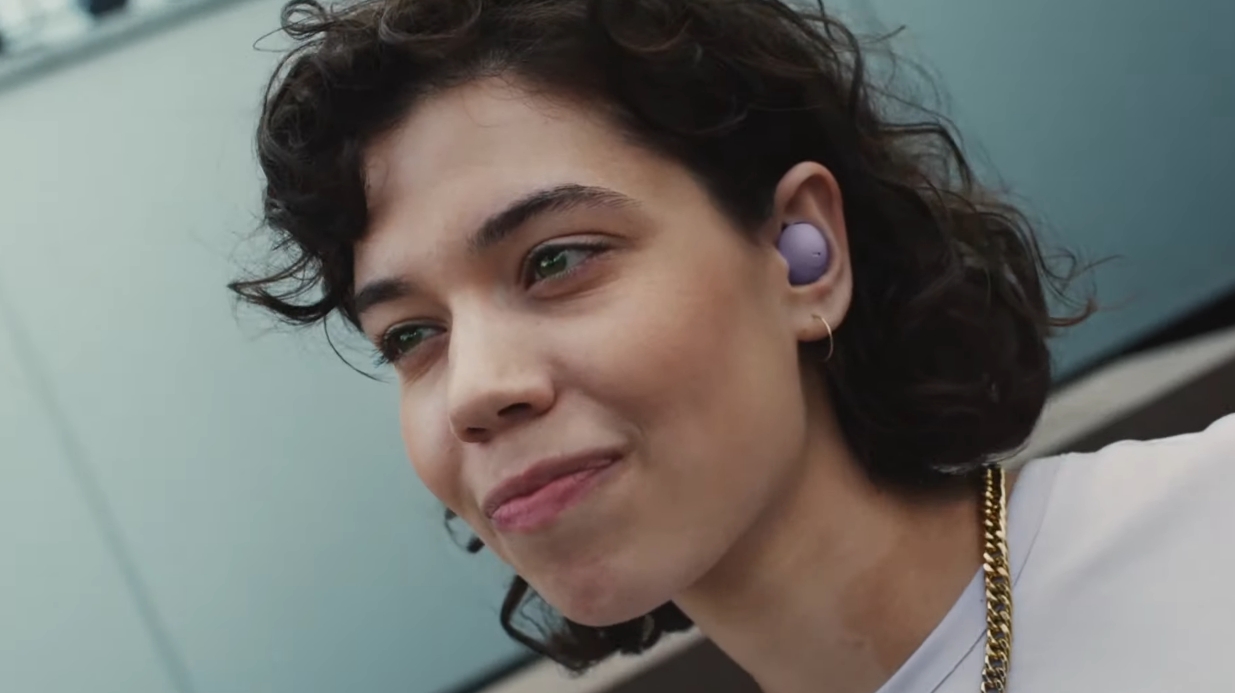 Back to the Galaxy Buds 2 Pro – showing now how they connect to your phone and TV simultaneously (Samsung phone and TV, natch) and will allow you to transport the sound to either rather simply.
Again, this is very Apple, but that's great – Samsung should be making more of its ecosystem rather than just being a partner to others.
By the way – if you want to get pre-ordering the phone, here's the place you need to go, our Samsung Galaxy Z Flip 4 pre-order deals… and you can already get up to $999 off.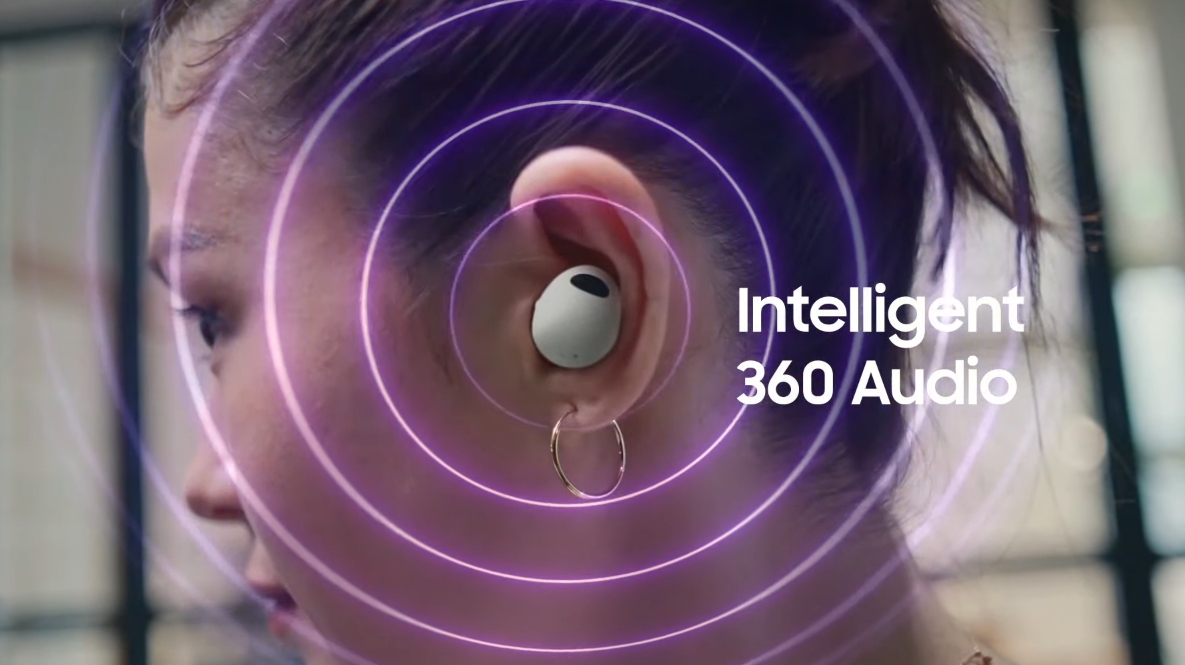 Now we're talking about the wireless earbuds. This is going to be all about the Galaxy Buds 2 Pro – and 24-bit audio has been indeed included, as we predicted.
Samsung developed its own codec – in a similar way that Apple is rumored to be doing – this will allow for more effective sound, with 360-degree sound coming in…
Sounds a lot like Spatial Audio, doesn't it?
Active Noise Cancellation has come in, and if you start speaking, the earbuds will dial back and allow you to hear through – a bit like on the recent Sony over-ears too.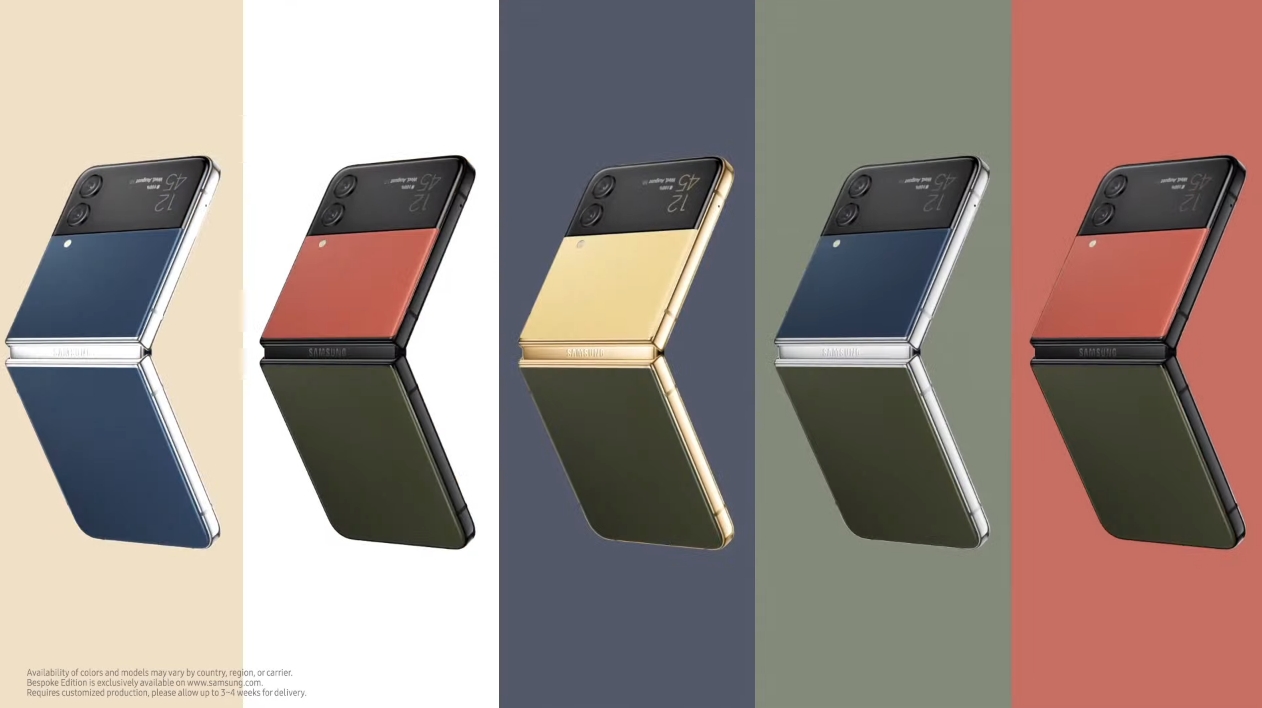 I think we're done with the Flip 4 now – we're seeing a promo video.
Oh wait, no – it's the Galaxy Z Flip 4 Bespoke Edition now. We've seen these before, finding ways to add color and features (for a cost) to make it your own version of a Samsung phone.
This will bring more options, allowing you to change five body colors and three frame colors, which means (gets out fingers) 15 options of color combos.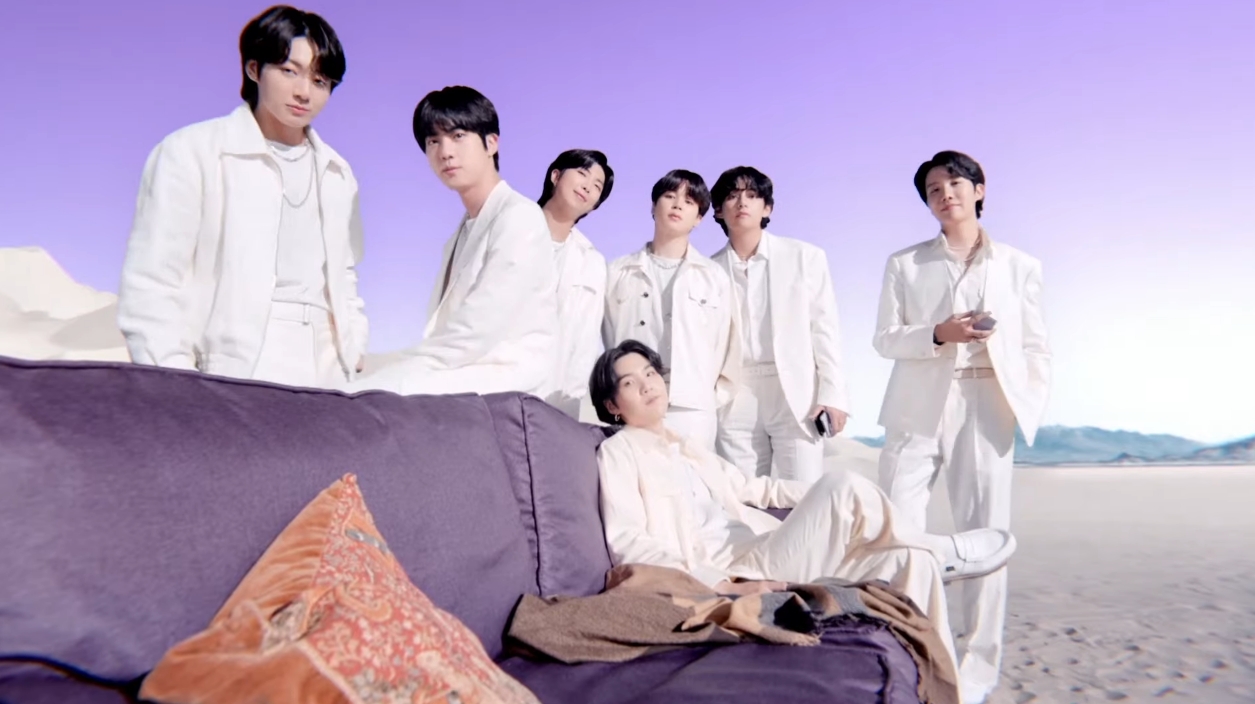 Ah, there's BTS. Samsung always loves a bit of K-Pop and this boyband… although, really, they've transcended the K-Pop genre and are just pop now. 
Anyway, I digress. They've all in white suites, having lots of fun in a desert on a sofa and they're being watched all on the Z Flip 4.
Oh, that's it.
The new Flip 4 has an Aluminum Armor display, thin and powerful glass and an IPX8 rating… all of this was leaked in the build up.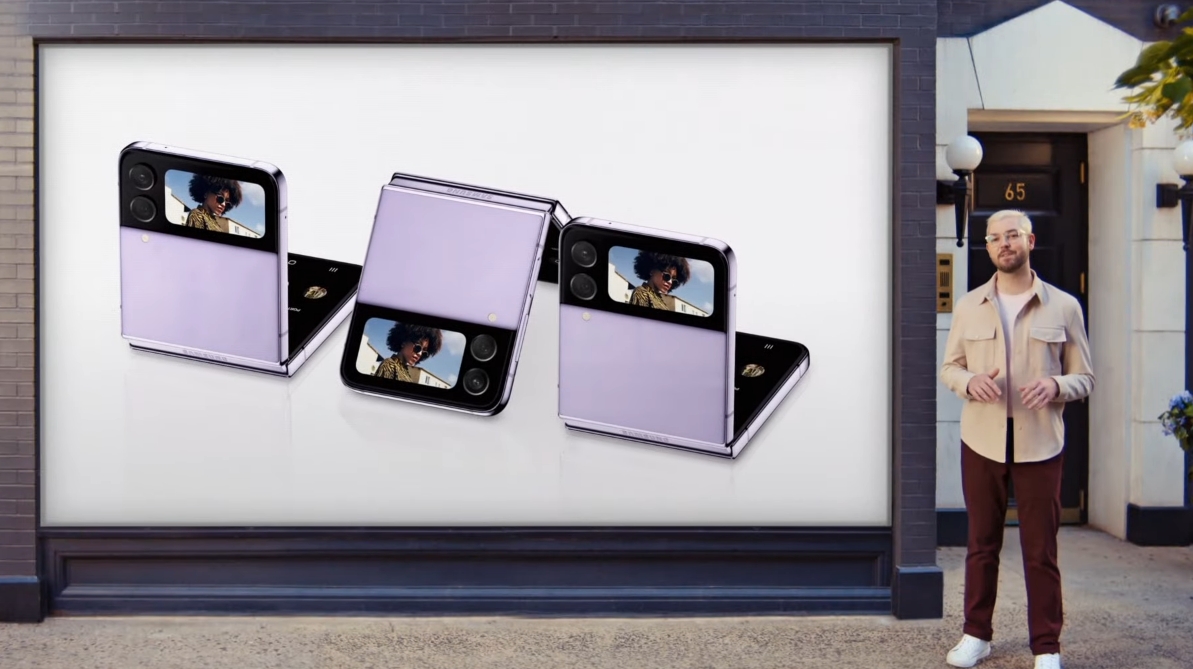 Oh, I do like this: Samsung has just higlighted how snapping the Flip shut says you're ready to pay attention and are back in the room – that's precisely what flip phones used to offer, and it's great that the brand is really leaning into that.
The cover screen doesn't seem to have change, but there's a stronger metal frame, with four matte finish colors: purple, graphite, white and blue.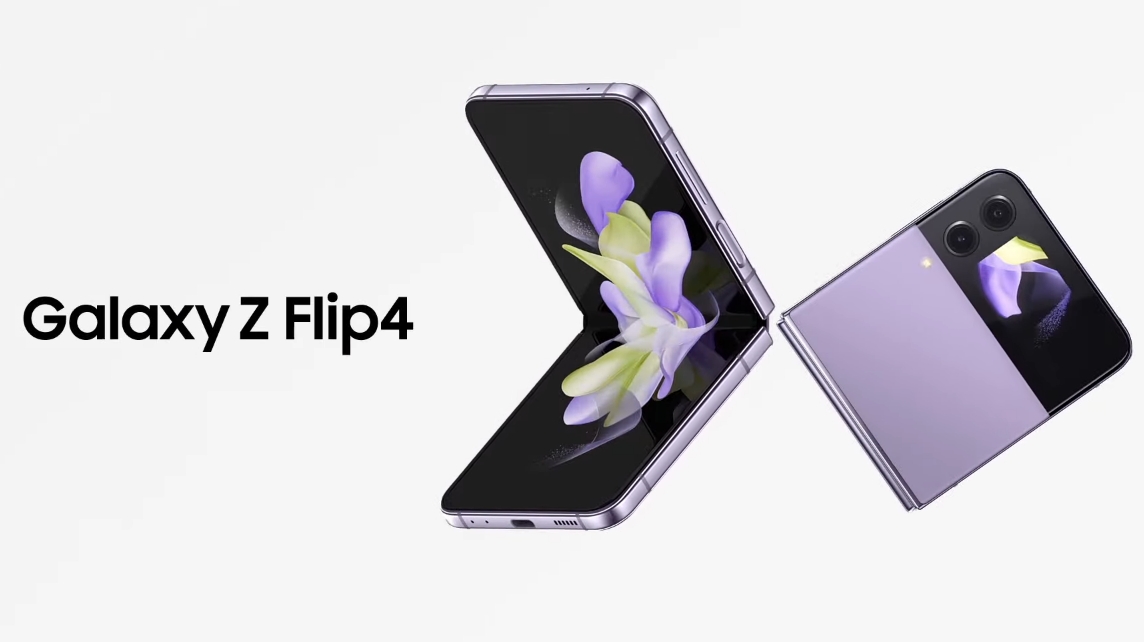 OK, let's get back to the action. We're hearing about the Galaxy Z Flip 4 now, with the front and back cameras working together – Adam from Meta / Instagram was on talking about how Instagram Reels are so much easier with this device, but it wasn't clear how.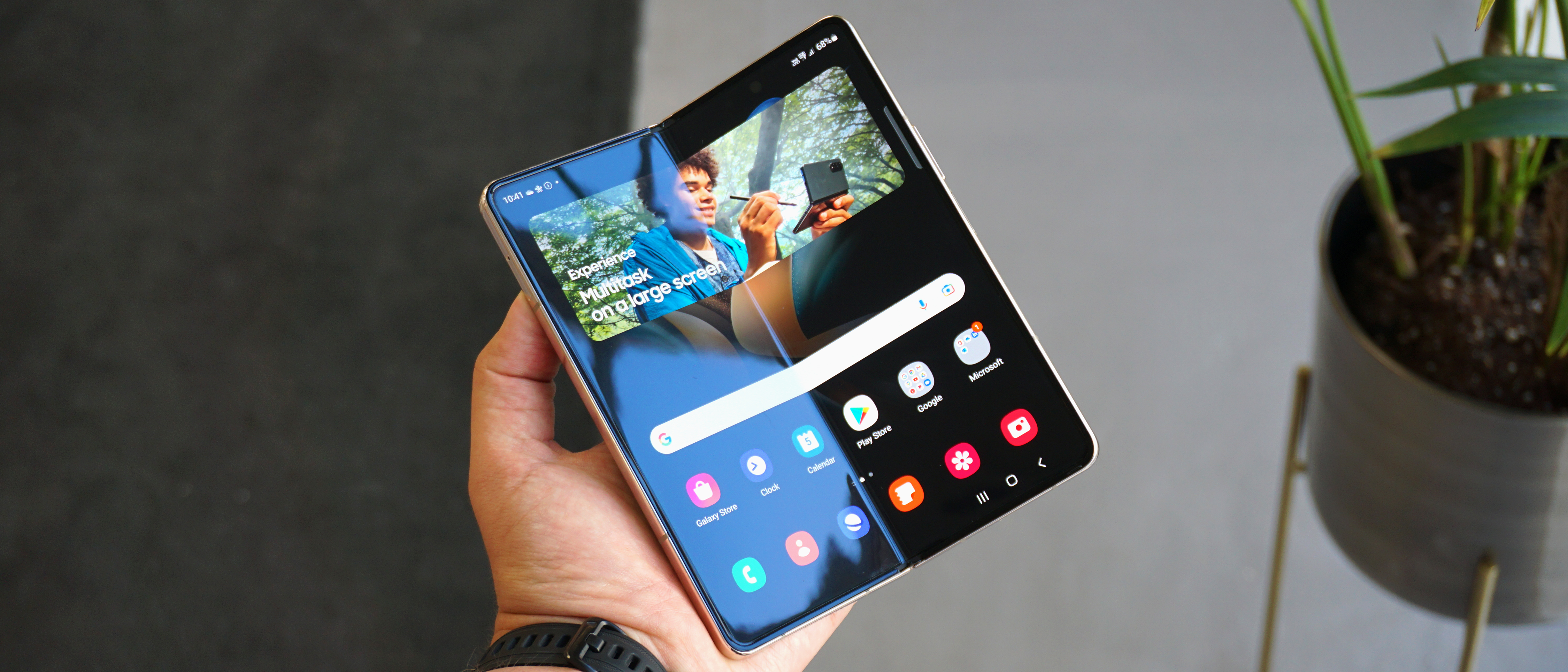 Right, so here's the thing. We might have had hands on with these devices under embargo… 
Actually, we did. Here they all are: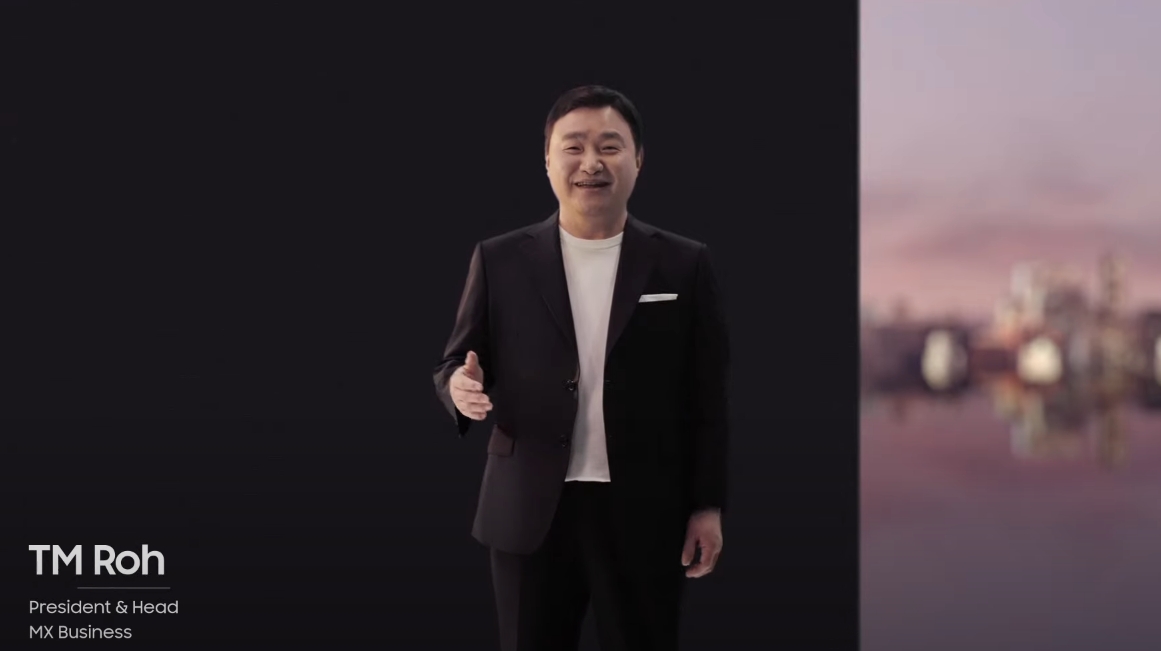 TM Roh, the head of the MX Business at Samsung is on stage – and he's talking up the fact that these phones unleash 'freedom, progress and wide-open possibilities'.
The chat is about how Samsung has gone from the first fold, which took 8 years to get to the market… and now it's going mainstream.
It's the fourth generation of the Samsung Galaxy foldables – this is Unpacked. (I'm quoting here).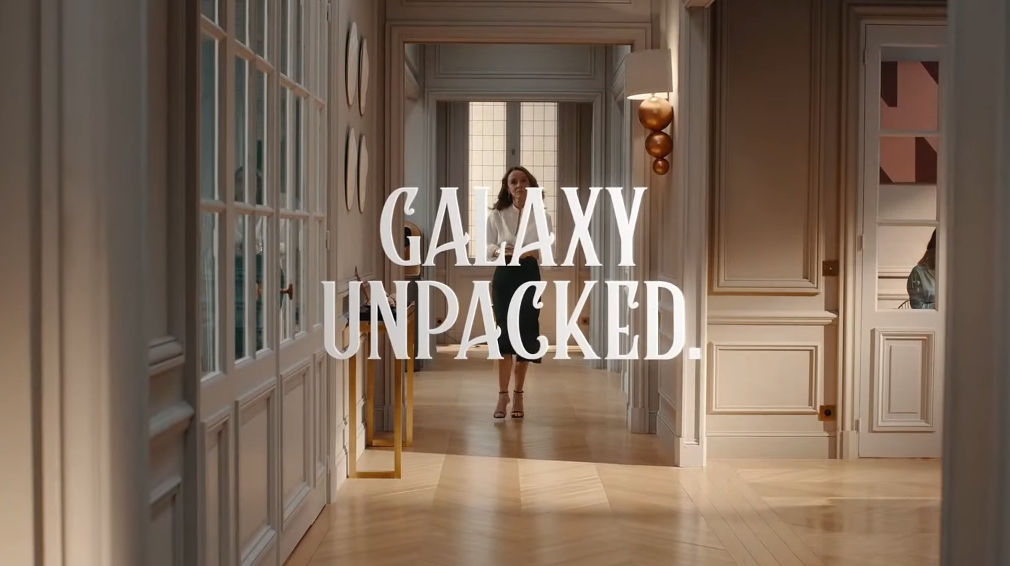 This is an international event apparently, and that's how we're seeing two people playing with bread and having an argument and then they spill some wine and then something about a reflection. 
This is going to be a hard live blog.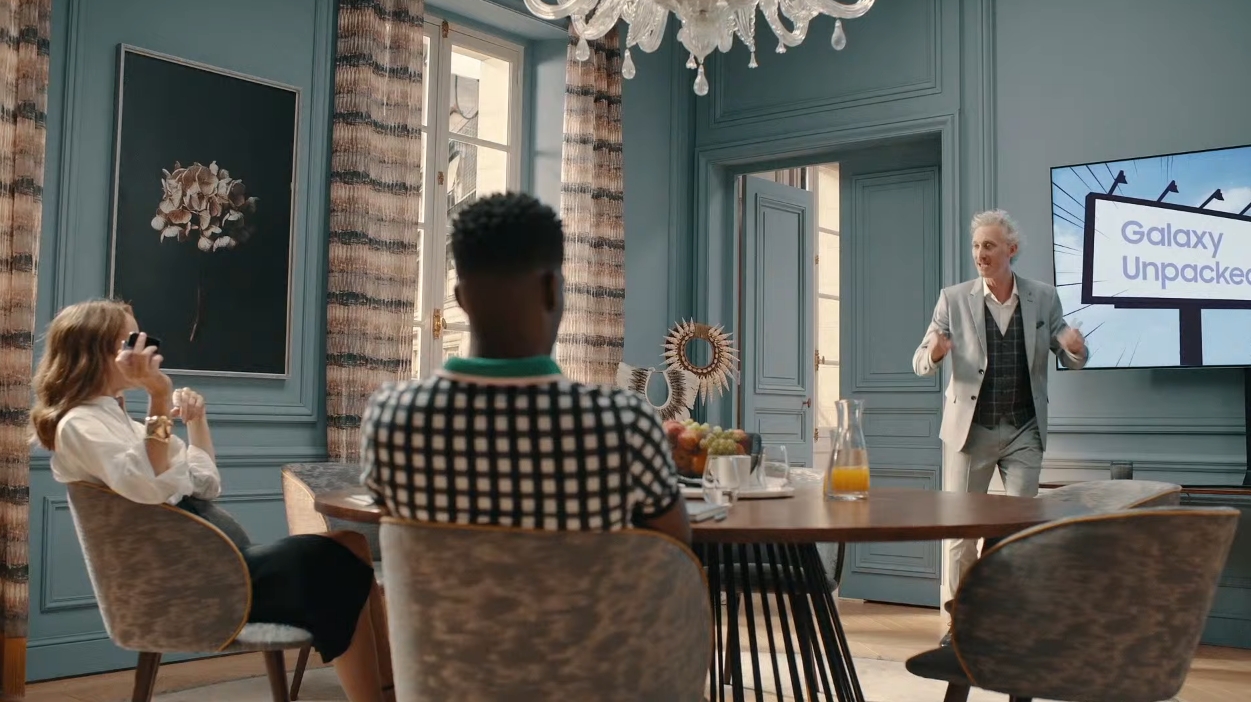 It's a video joke to start, and I'm worried that I'm missing something – it's two people trying to explain how they'll market the new phones… how they both want to put in acrobats to show things off. 
This is weird. 'Reimagining the hybrid experience' or something. Who cares.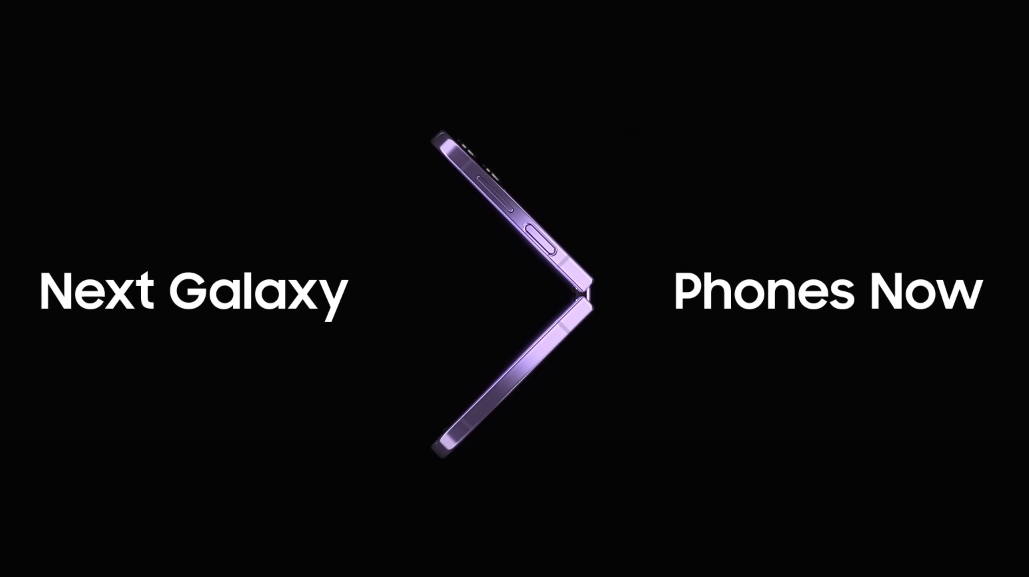 OK, just under 5 minutes to go – let's do a quick run down of what we're expecting:
Samsung Galaxy Z Fold 4 – the most powerful and large device announced today, we're expecting this to come in around a whopping $1,799 / £1,599 / AU$2,499, with a large 7.9-inch screen when unfurled and enhanced cameras.
Samsung Galaxy Z Flip 4 – Set to cost about $999 / £949 / AU$1,499, it'll have thinner bezels, a stronger hinge and more power thanks to a top-end Qualcomm chip. It's still expensive for a phone that folds in half, though.
Samsung Galaxy Watch 5 – This one is set to cost around $349 / £349 / $549 if our estimates are right. This will be the first watch to land with Wear OS, and that's a big deal. Not a massive change expected, but one that might well appeal to many.
Samsung Galaxy Watch 5 Pro – This is the big one for me – no idea on price, but with a whopping battery and likely better GPS skills, I think this will be the one to watch out for. Haha watch out. It's a watch. Man, I'm funny.
Samsung Galaxy Buds2 Pro – Again, little idea on price here, but with 24-bit sound these could be real winners. Slimmer design and better battery life will mean I truly regret my recent purchase of the Buds Pro.
There I am, popping some gnocchi and sausage in my mouth to get energized for the main event, and I'm browsing Twitter for some down time before I try and rub my fingers to nubs on the keyboard for you, dear reader.
I find a Twitter thread of Kimi Raikkonen adverts – the most morose, anti-media ex-F1 star doing ads? Yes please.
So color me surprised when the second one down is not only advertising the Galaxy Z Fold 3 and Z Flip 3… but he's actually animated in this one! It must be because his wife, a well-known celebrity in Finland, made him jazz up for it.
Anyway, watch it. It's brilliant. Then folllow the thread – but be back here in 35 minutes. This is a school trip, not a rodeo.
Samsung Galaxy fold commercial 2021. pic.twitter.com/1mZYgfHTc9August 9, 2022
See more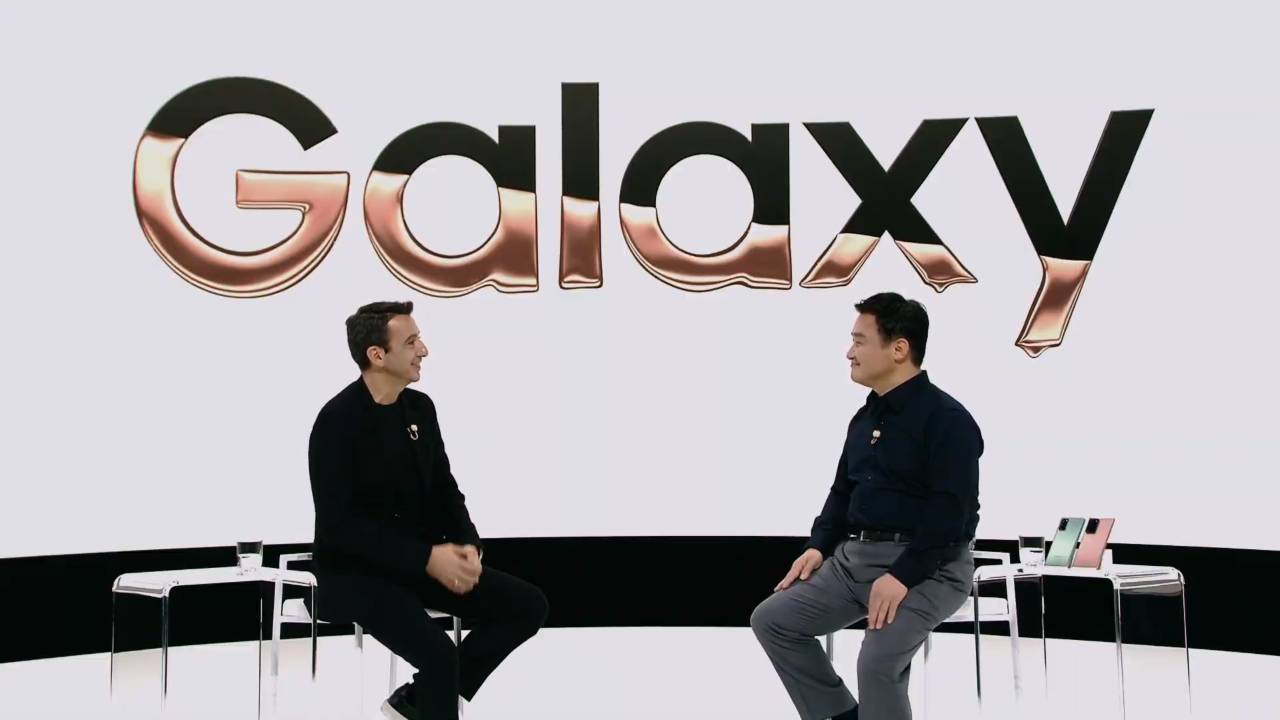 OK, we're T-minus one hour from the launch of the new slew of Galaxy Z Fold and Flip phones, and (probably) new watches and headphones too. 
Make sure you're ready to watch with our How to Watch Samsung Unpacked guide, and remember that this page autorefreshes regularly, so when everything starts going nuts and I need to type faster than ever, just let the page do its thing – you don't need to press F5 (although it will give us more page views, which is nice).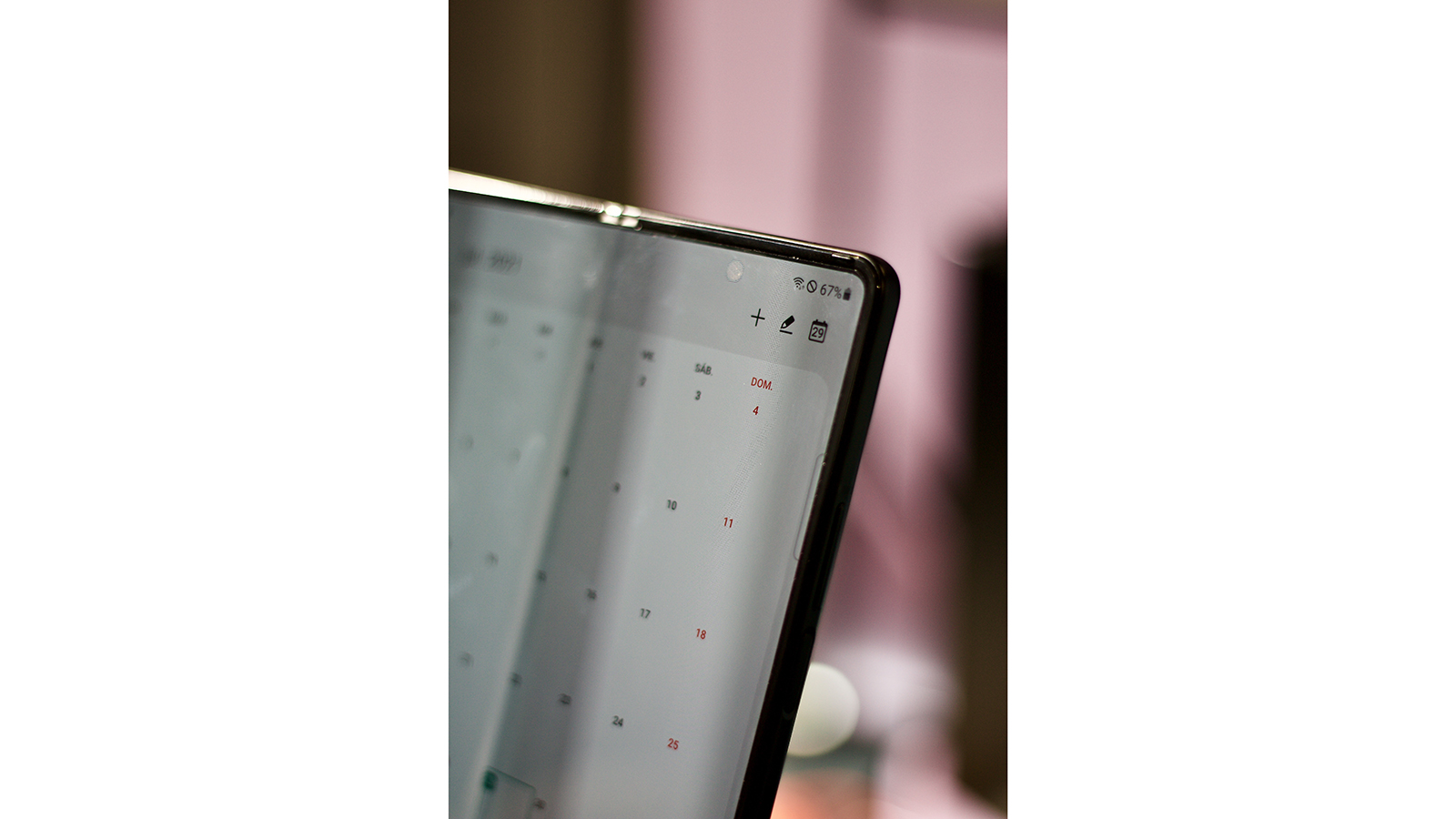 One of the things that really puts me off buying a new Z Fold phone is the crease down the middle – I used the Galaxy Z Fold 2 for a few months, and I'll admit I stopped noticing it after a while, but whenever I open it back up it's there, staring me right in the face.
It's like when I got my eyebrow pierced – I know that it didn't hurt that much to get it done, but when I thought about having it done again I couldn't bring myself to have someone push metal through my skin.
Same with the Fold 4 – I don't want to spend well over $1,000 if I'm going to be greeted with sadness the first time I open it up – even though I know I'll get used to it.
It depends if the rumors of a 'reduced' crease really are true or not – only an hour to go now to find out…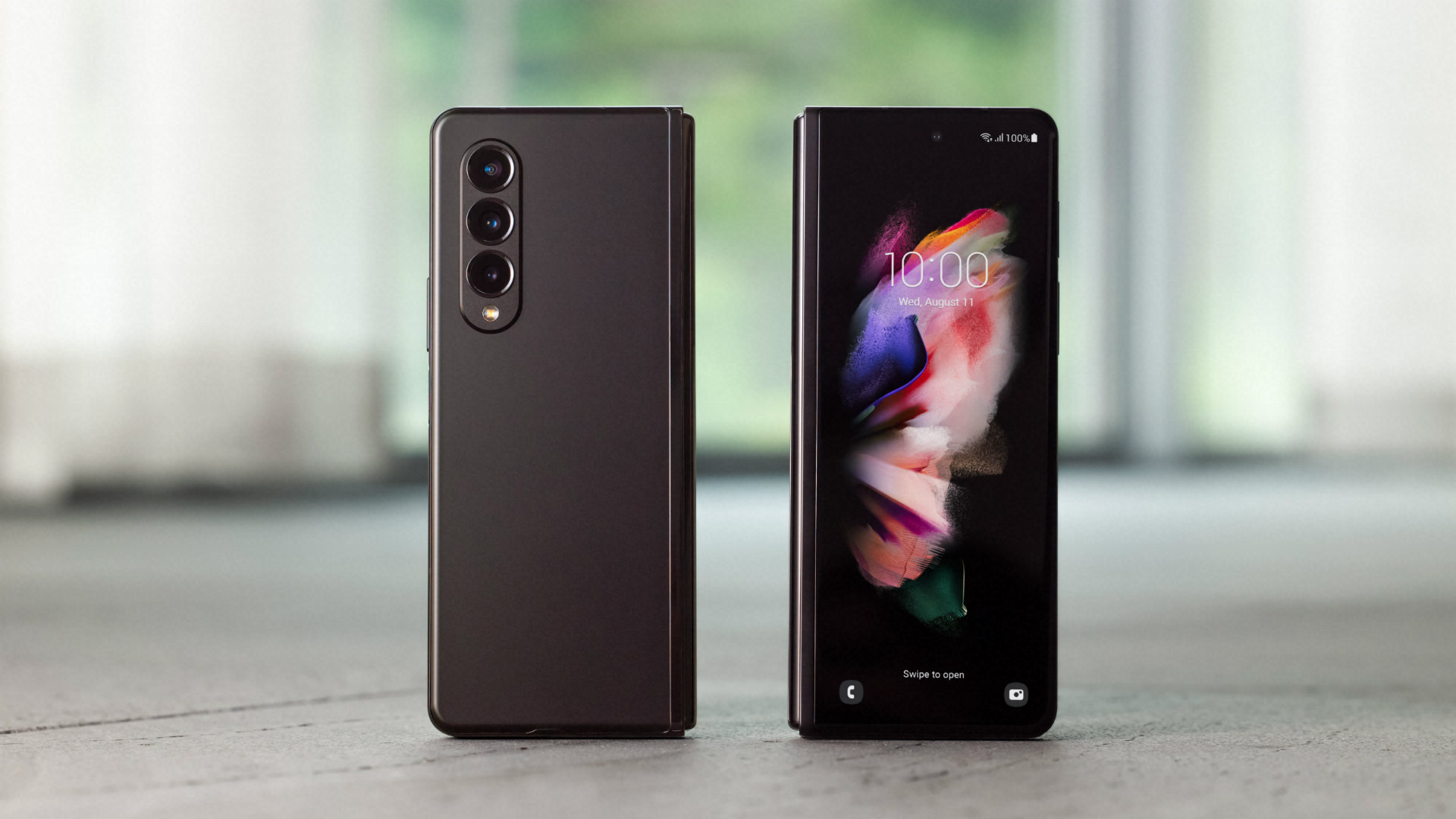 Let's talk cameras – something that's usually a strength of Samsung here. The brand will always be putting high-end snappers into the mix, partly because it develops the sensors itself, but the Fold and Flip series have never had the best-quality out there.
Will that change this time around? The rumors are clear that the new camera will be headlined by a 50MP sensor with optical image stabilization and a pretty-modern f/1.8 aperture sensor too.
That's a far cry from the three 12MP sensor for last year, and could yield much better pictures as Samsung continues its campaign to make foldable phones 'a thing'.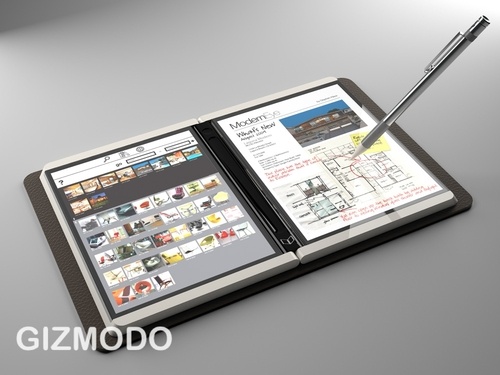 While we're here talking about foldable phones, remember Microsoft's Courier from all the way back in 2009? It was like a proto-foldable… well, it didn't even fold at all, it was two Windows PCs without a keyboard welded together. 
You interacted with a stylus, it sounded mega, you could move things across from one screen to the other in a note-taking manner… it's clearly the grandmother of the Surface Duo phone, but man alive, I wanted it so much.
Speaking of the Microsoft foldable world, let's not forget the Surface Duo was actually a pretty decent phone and was much-loved by those that reviewed it… but more in an affectionate way, than an overly-impressed one.
quite enjoying this. uh oh pic.twitter.com/qpjak1JugHAugust 9, 2022
See more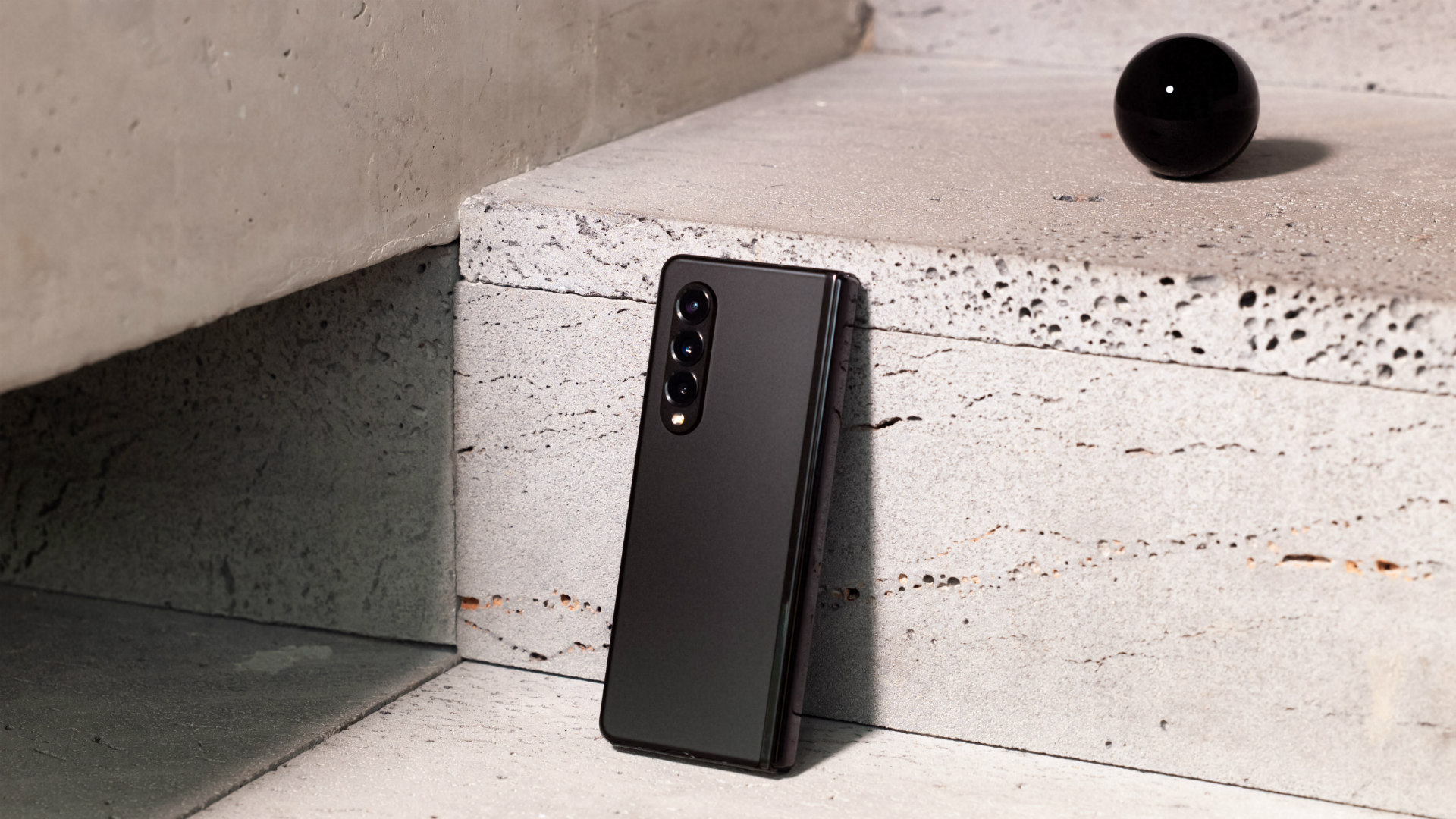 There was an excellent article over on The Verge recently (opens in new tab) around the fact that Samsung is pulling far into the lead in the foldables space, which is why it can afford to  make incremental changes to its phones.
It's an interesting point – but the fact is that, without the massive marketing spend Samsung thrust on its foldable range with the Z Fold 3, it wouldn't have sold 10 million units last year, and it would be back duking it out with Huawei, Oppo and (sort of) Microsoft right now.
Let's go again team – and this time, we're already seeing the standard efforts to try and generate some buzz. Some hype. Some thrash metal fun, over on Twitter.
It's done the standard thing for a social media presence to do: run a poll. 
So… are you Team Fold or Team Flip?
Let's prepare a lovely battle here! Are you team Flip or team Fold? #SamsungUnpacked #GalaxyUnpackedAugust 10, 2022
See more
At the time of posting, Team Fold is ahead, 60% to 40%. But, then again, only 254 people have voted… but I get the feeling that ratio will hold.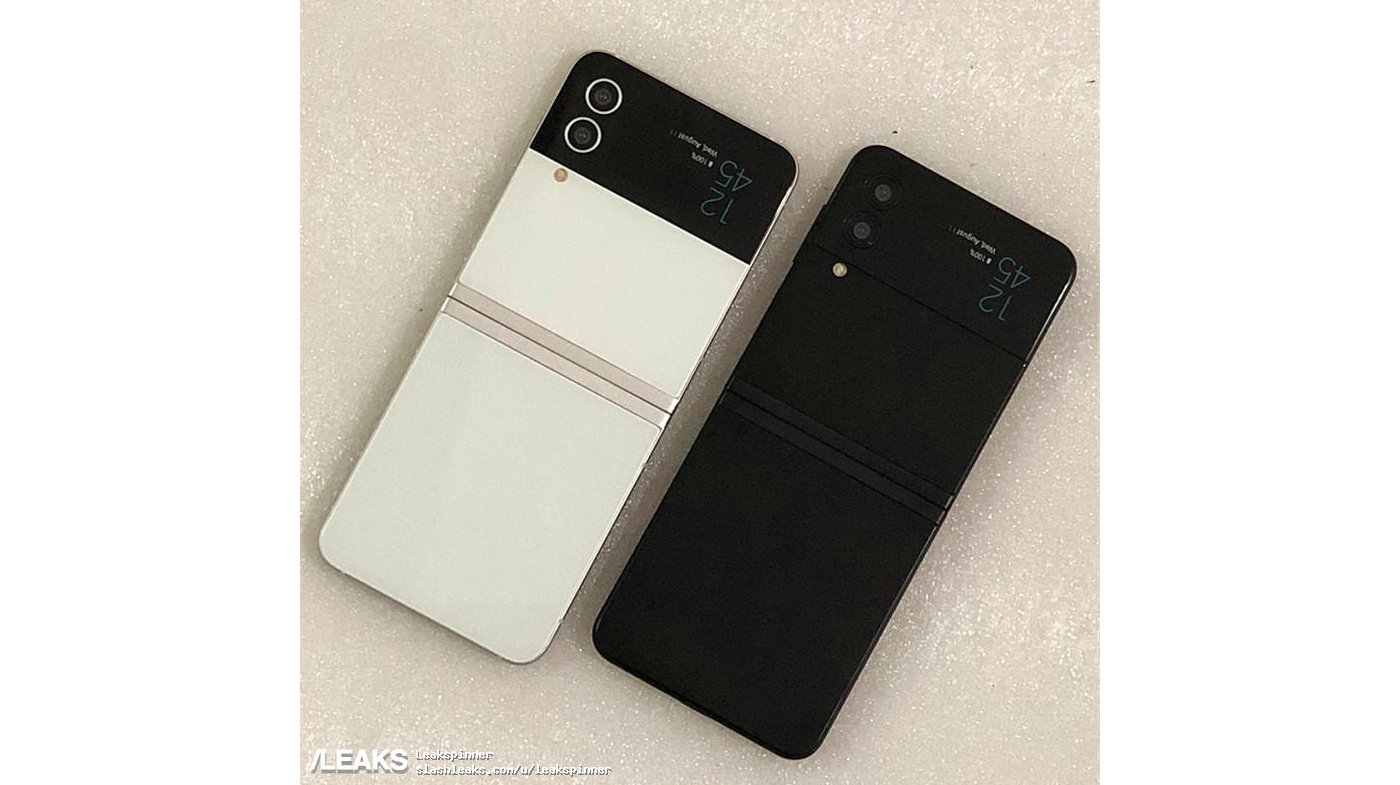 Shock of the century, there's been a last-minute leak from the Flip 4. Regular a clockwork, these are. 
This time it's from two sources: Slashleaks (opens in new tab) has published a dummy unit of the Z Flip 4, with the front and the back shown in white and black.
The leak from noted tipster Roland Quandt over at WinFuture (opens in new tab) (they've clearly got a good in with someone in the Samsung food chain…) gives far more detail – noting a thinner bezel, a smaller and more compact hinge, strong aluminum used in the construction and, crucially, a bigger battery to make the most of the high-endQualcomm Snapdragon 8 Plus Gen 1 chipset, wtih 8GB of RAM.
That's a meaty phone indeed – is it one you'll be buying though?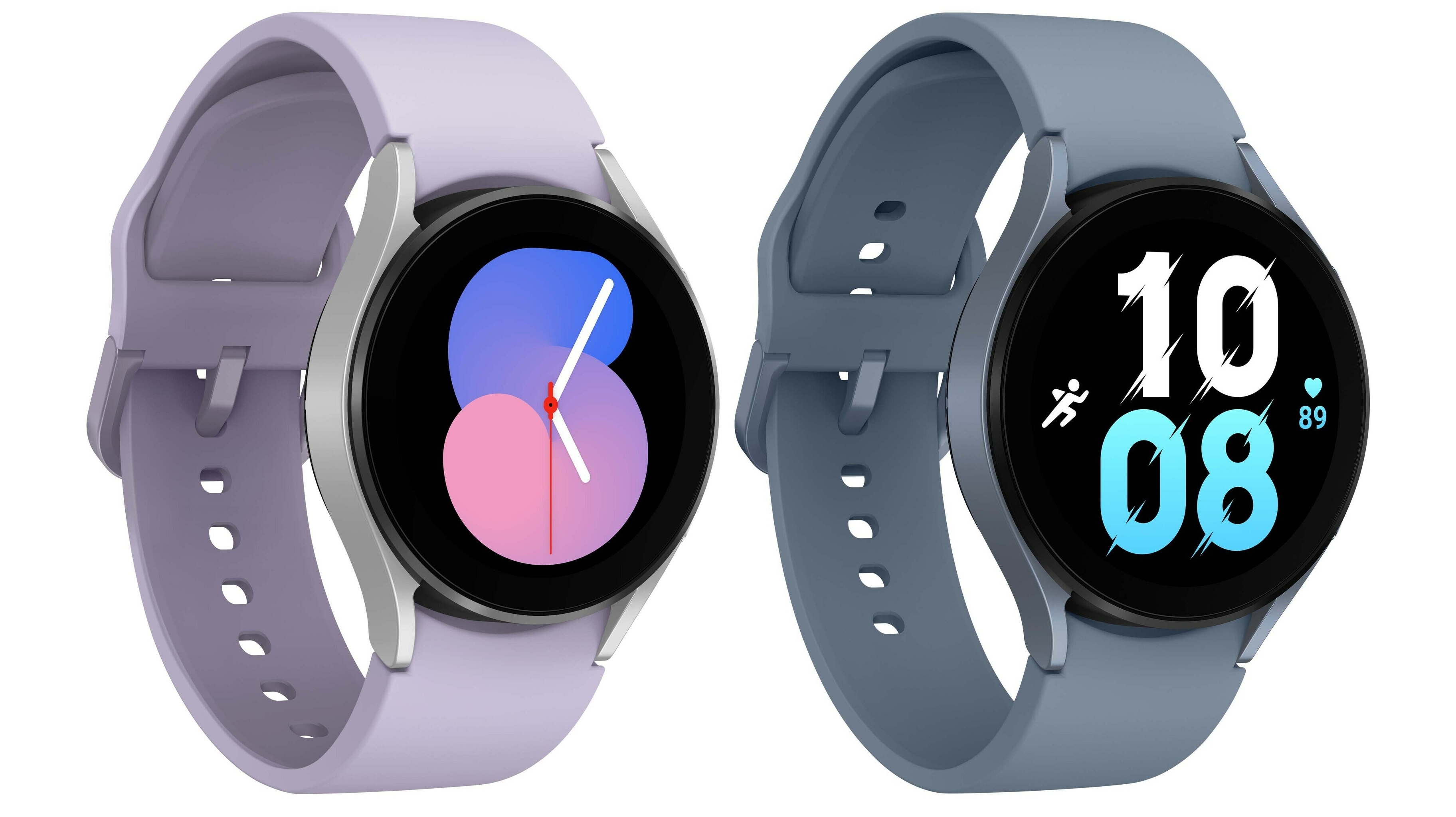 While we're talking of massive leaks, how about this one? Nearly everything from today's event has leaked out in some form or another so there's not much that will surprise, but a few days ago we got a supposed official marketing image from WinFuture (opens in new tab) (although we won't know until Unpacked unfurls) and some battery capacities too.
This is what's excited* me:
"The 40mm Samsung Galaxy Watch 5 will apparently have a 284mAh battery, the 44mAh model said to have a 410mAh battery, and the 45mm Samsung Galaxy Watch 5 Pro apparently getting an enormous 590mAh battery."
A 590mAh battery for the Watch 5 Pro? Given high-end Garmin watches have a (roughly) 400-500mAh battery inside, this could be game-changing. However, it's likely that the display on the 5 Pro will be far more power hungry, so let's not expect miracles here.
But that's a big boost, and it sounds like we're about to see a chonky little monster.
*Yes, I'm an absolute fun palace at parties.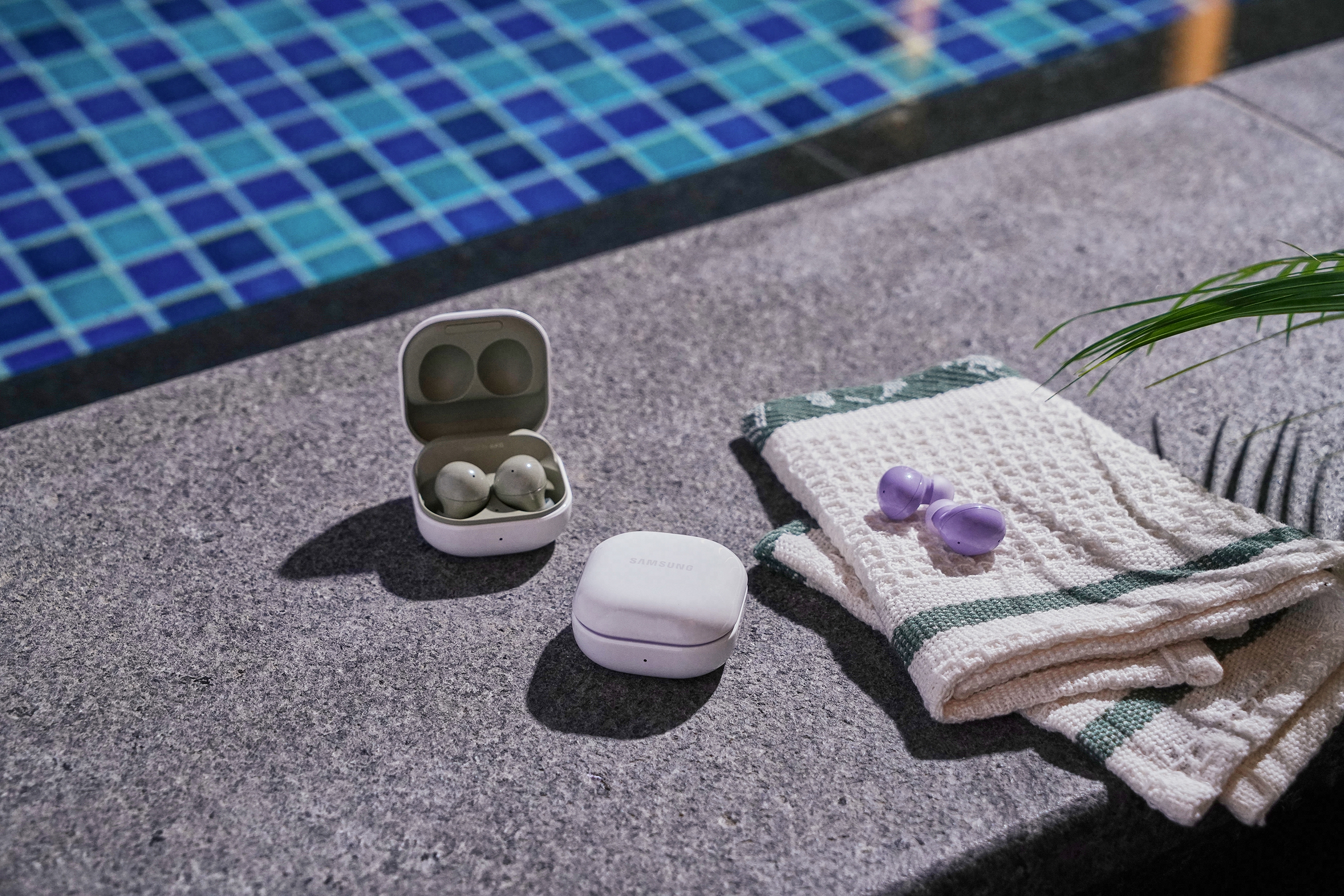 Right, let's turn our attention to the Galaxy Buds 2 Pro (well, I assume they'll officially  be called the Buds2 Pro because why not, eh, Samsung? Why bother with proper syntax?)
I've recently bought the Galaxy Buds Pro, and they're… fine. Decent active noise cancelling, OK fit, battery life isn't bad, sound is more than passable.
So what can we expect from the next models, a year on, should they appear?
"An updated Bluetooth codec would open the door (potentially) to 24-bit hi-res audio," says Becky Scarrott, our Senior Audio Writer. 
"If Samsung can achieve 24-bit hi-res audio with its proprietary codec wizardry, the Galaxy Buds2 Pro might finally put Sammers on the map as a key player in wireless earbuds – but only if they can also work on that disappointing battery life".
Oh, I thought the battery life was OK… shows what I know. 😒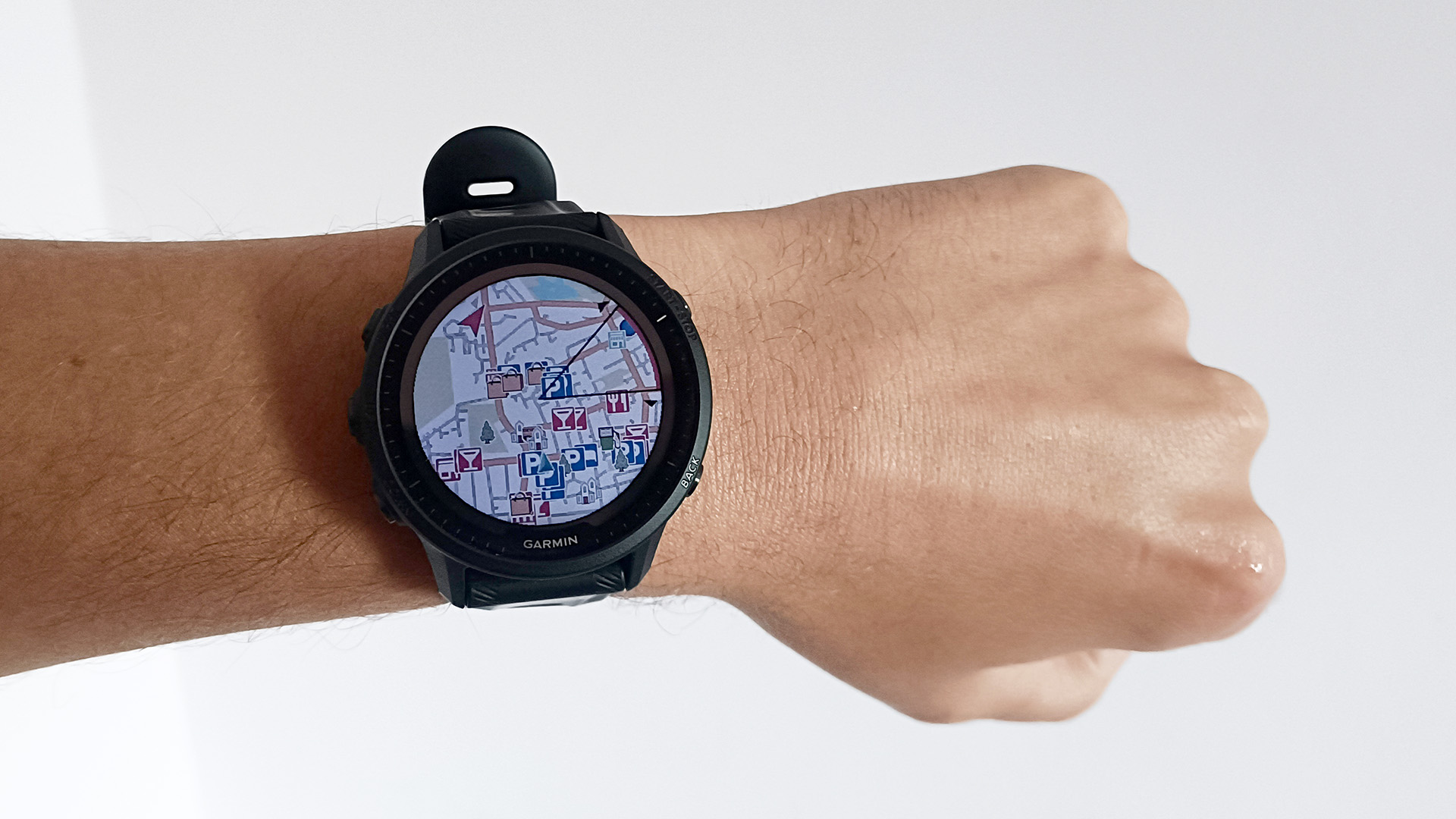 There's one thing I'm really excited about – as 's Running Man of Tech – to see today.
In a recent blog post (opens in new tab) about innovation in wellness, TaeJong Jay Yang, EVP and Head of Health R&D Team at Samsung Electronics said the following when referring to the upcoming Galaxy Unpacked event:
"Samsung is excited to continue expanding our Galaxy Watch lineup to better cater to the many unique needs of our users — especially those with a passion for the outdoors."
Now, you could easily think that means the new Watch 5 is going to have enhanced fitness elements, or a slightly bigger bezel or something. But that's not really going to change the game – Samsung has been making 'pretty good' fitness watches for a while, and 'expanding' that means making something better – and that means a device that properly takes on Garmin.
So the rumored Galaxy Watch 5 Pro or Galaxy Watch 5 Rugged is where I think this is going – and that could be something to take on Garmin. It'll need a bigger screen, much better battery (my Fenix 7 can last 28 days without a charge in smartwatch mode) and improved GPS features.
So, come on Unpacked – let's see what you've got…
There have been a number of leaks about the new Z Flip that we'll be seeing today – and while you can never be sure of the validity of a leak until the device is actually shown off on stage, we can be pretty confident that what's leaked out is likely to be legitimate.
The first leak came from Amazon in the Netherlands, where the specs of the phone were unleashed onto the world. Now, we traditionally ignore these, as a retailer can sometimes put a product listing in its system in readiness, and do 'best guess' specs just to have something holding.
Those can sometimes go live, and therefore are seen as fact when they're not. But what looks more realistic with Amazon's leak is the pictures – and there were a lot of pretty accurate-looking marketing materials published.
It seems a number of these have been redacted of late as Samsung seems to be shutting them down – but we can see said Dutch imagery over on Telegram (opens in new tab) if you want to check out some of the dimensions.
I had a dream last night that I was jogging down some stairs, jumped onto the banister, slid down a bit and then did a pretty good spin onto the floor. 
A man looked at me, smiled and gave me the finger guns. I felt good about it.
That's all – it was just a pretty nice dream.
It's important, when discussing leaked information, to always point to when the brand in question – in this case, it's Samsung – pretty much just shows a video of one of the devices it's showing off in an upcoming launch.
Now, I'm no forensic expert (I do know a thing or two about phones…) but you don't need a degree to see the new Galaxy Z Flip 4 in this teaser from Samsung:
Watch something greater than before unfold at #SamsungUnpackedJuly 27, 2022
See more
Let's start things off with something of an interesting rumor: while I don't think this is going to come to pass, leakers have tipped that the Z Flip 4 and the Z Fold 4 are going to come as just the Flip 4 and the Fold 4, as the Z is being used as a military symbol in Russian attack on Ukraine (opens in new tab).
I doubt that will happen at this point as so many leaks have tipped them to still pack the 'Z' – but it's an interesting note for how brands need to react to outside events when considering how their naming conventions will go down.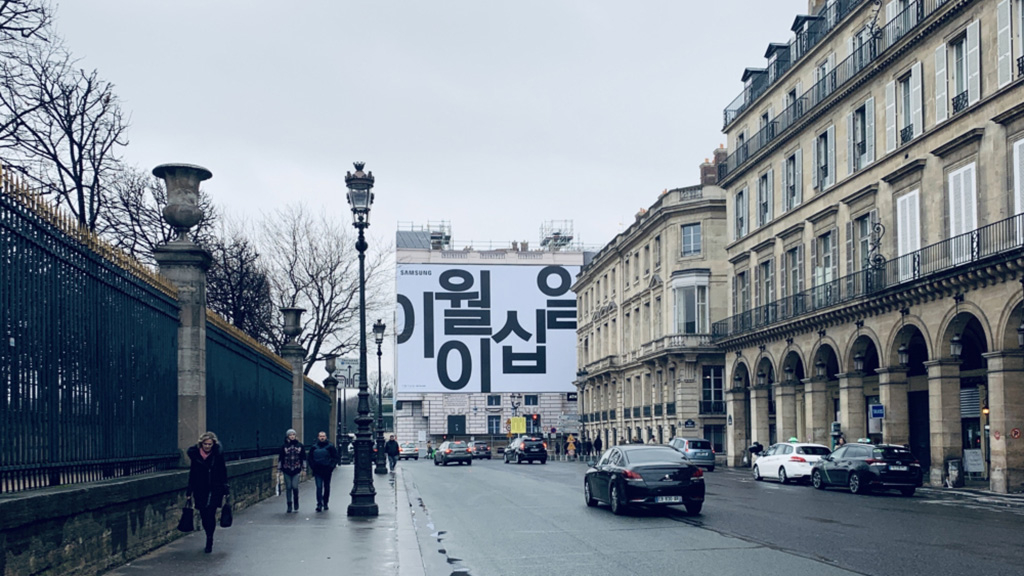 Hello hello! The sun is shining (well, depending on where you are and what time of day it is) and it's time to get ready for one of the tentpole events of the year: the August edition of Samsung Galaxy Unpacked.
Spoiler alert: we're going to see some new foldable phones today. That's not me giving you the inside scoop or anything… it's just that Samsung has been so obvious about it that if it didn't launch the new Galaxy Z Fold 4 and Galaxy Z Flip 4 today, I'd be utterly and completely shocked.